Automotive Window Film Suppliers UK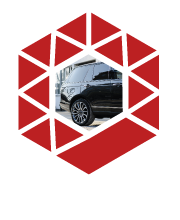 Dymond Technical Window Films offer a full line of automotive window films designed to provide the custom look you desire no matter what vehicle you drive.
Stunning Appearance
Our professional grade automotive tinted window films help protect fabric and leather interiors from sun fading and deterioration. In addition they add a degree of safety by helping to hold broken glass in place in the event of an accident or vandalism.
You can choose from a variety of products:
Premier Series
QDP NR Charcoal Tinted Films have a quick dry plus adhesive system incorporating our unique anti-static release liner for pristine installation – 2PLY laminate with super-shrink technology.
Standard Series
We also have our standard range of 1PLY QD NR Charcoal Tinted Films from 5% Limo Tint through to Ambassador 70% Visible Light Transmission.
High Performance
High Performance metalized HP Charcoal Automotive Tinted Films offer increased solar heat rejection and are available from 5% to 50% Visible Light Transmission.